Solo Project | Manager, Researcher, Designer, Strategist
Master Thesis | Social Innovation | Women Empowerment
Collaboration with Bopinc & MakaPads
2022
Design Challenge:
Design a launch strategy to increase awareness and availability of MakaPads in rural Uganda

The Project:
A distribution and communication strategy was created after reserach. I did literature review, conveyed in depth inteviews (online and offline), guerrilla tests and focus groups; research.
Personas
The goal of creating personas for MakaPads is for the company to have a clear overview of their target user and consumer and their partners' needs. The persona cards can be used for different purposes during this strategy and for future projects of the company. The user cards will help MakaPads to understand their targets' desires and create successful communication material for them. The partner card will ensure that MakaPads empathizes with the VHTs to understand their mindset and therefore, build strong relationships with them.
Tactical Roadmaps
A tactical roadmap was created for the market launch trial. The roadmap describes the preparations and partnerships needed for the launch. The market launch will be done partnering with a school, therefore, it will happen according to the school calendar.
Another tactical roadmap was created to guide the process of improving the trainings. A special focus was given to it because there are numerous things to be done and improved, so extra guidelines were needed for the team.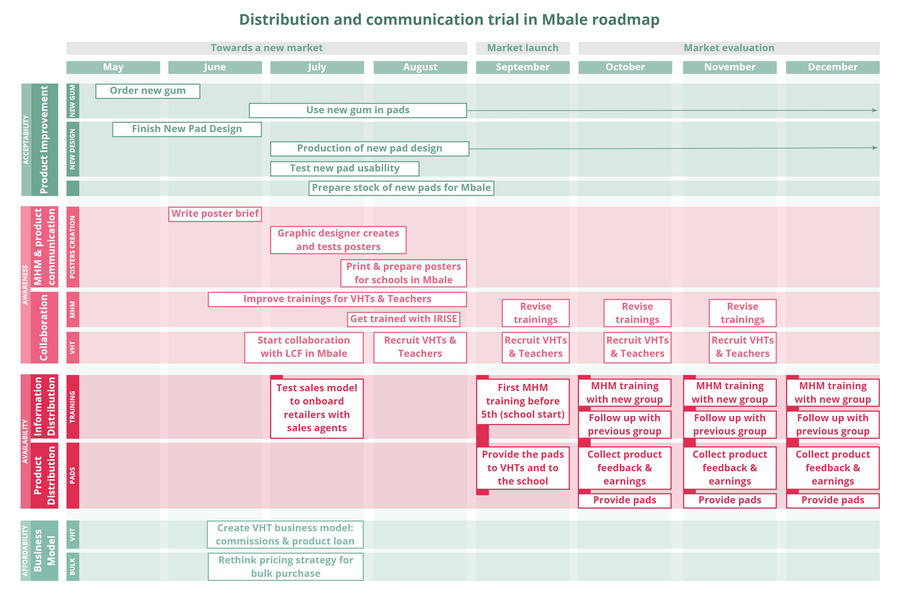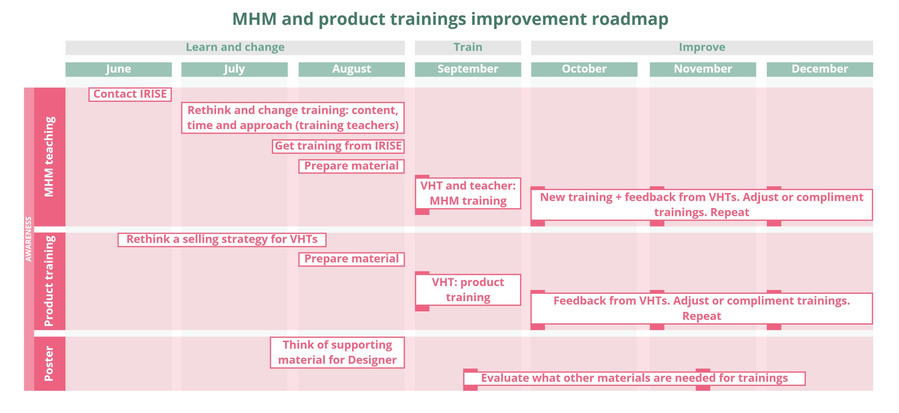 Poster Briefs
Using the findings from the posters testing, three briefs were created for MakaPads' communication. The goal of the poster briefs for MakaPads is to make it simple for them to understand the type of information that needs to be included in the communication and explain why certain things are included in the designs. The briefs were designed to provide inspiration and a base line for a local designer to generate relevant posters for the villages in Uganda and simplify the interaction between the designer and MakaPads.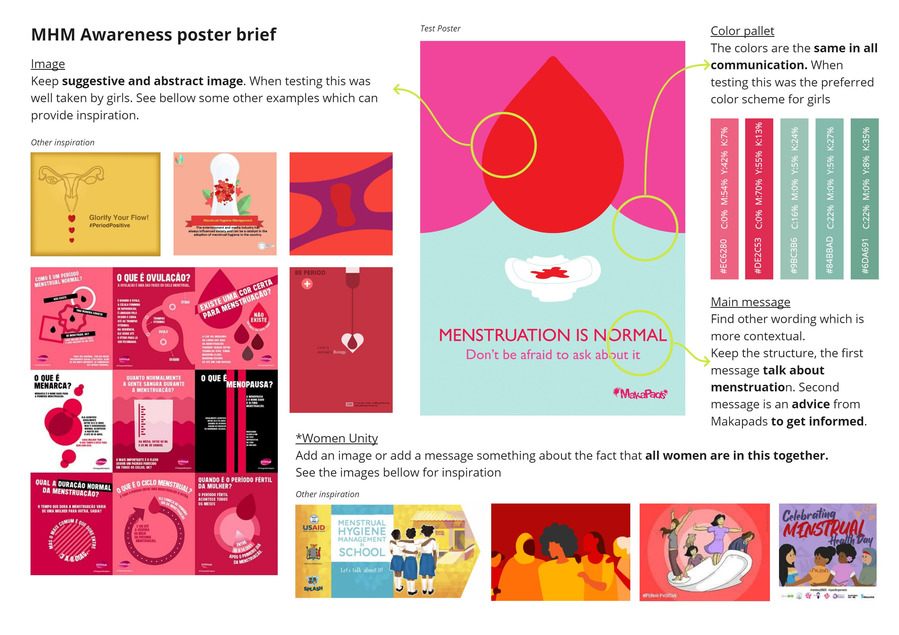 Replication of the strategy
A tactical roadmap was created to guide the replication of the launch strategy in new markets. The roadmap will work interchangeably in different periods of the year; therefore, the months are not specified. The roadmap suggests that MakaPads organizes each market launch based on the school's academic year, which has three terms of three months each.

Finally, a canvas was created to guide the arrangements needed to enter to a new market. The goal of the canvas is for MakaPads to know the steps they need to take to establish the distribution model.